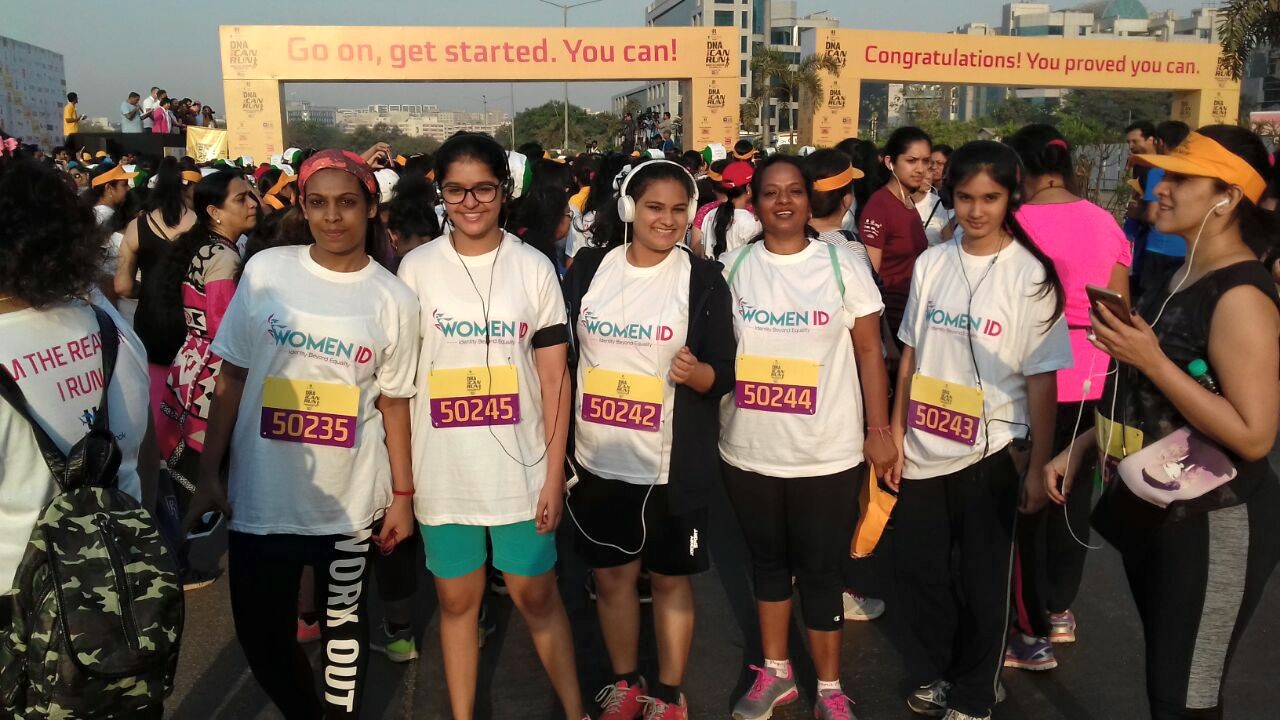 WOMEN-ID has always encouraged and strongly believed that women can do anything and running a marathon is no exception. Associating with the cause of promoting awareness on breast cancer, WOMEN-ID team joined in on a marathon to cheer up the enthusiastic "I CAN" spirit of the thousands of women runners participating at the 'DNA iCAN RUN' organized on the 25th of March 2017 in Mumbai, India.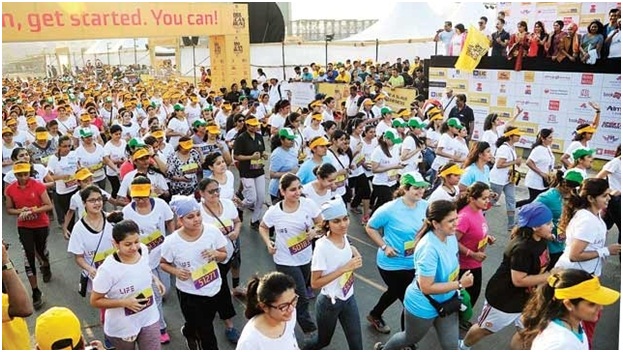 Young students from Aditya Institute of Management Studies & Research also chipped in with WOMEN-ID to run for the cause and create awareness towards preventing & combating the menace of Breast & Cervical Cancer.   One of the young girl students who volunteered with our on-ground team and participated in the women marathon shared her first hand experience in her own words.
Being a girl, I have always felt that we (the women) are strong enough to run any race, chase our dreams and win all challenges in life. So, today I want to blurt it out and say I CAN be anything I want to be, and can do anything that I decide !
I am not a marathon runner, in fact this was supposed to be my 2nd marathon to be precise! Opting out of the 21 KM half marathon, 10 KM spirit run, '5 KM Fun Run' was totally my calling as I never wanted to take chances of running for 10 km and ending up with a sour leg the next day.
With me there were other 8 colleagues who had joined me for the run. Even before the sunrise,we all assembled for the event at the Bandra Kurla Complex ( venue of the day!) just to witness the excitement  and to encourage the participants.
Women who joined in on marathon were vivid, glamourous and so full of life. The venue turned into a concert while women in groups started chit-chatting animatedly, some of them preparing themselves for the run, doing yoga, stretching clicking selfies, laughing ( but that's not what all women do).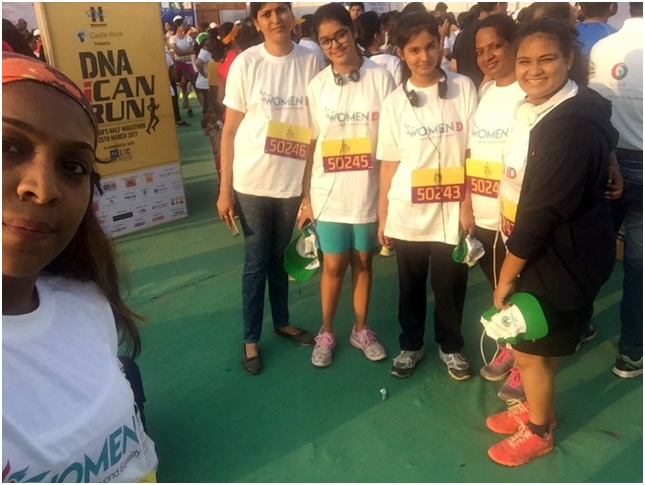 With celebrities around, warm up session was a real fun, we were made to do kicks, laugh as hard as possible and some of the yoga positions were also introduced to us. Soon, we were all made to gather at the starting point, and the flag off was done for the marathon to start!
And the race began…
Everyone running at their own pace, some of them walking leisurely, other were doing a brisk walk, but most of them cheering each other to buck up, it was a party!!
The whole experience of actually running the 5km fun run was fantastic, considering I was able to finish my marathon in 35 mins. which is only 17 mins more than the lady who came first!  Seems, I just needed some more practice… right?
No odds, at the end of the segment all the ladies were given a medal- a super cool tangible motivation to push ourselves off our own limits, into achieving what we thought was never so easy.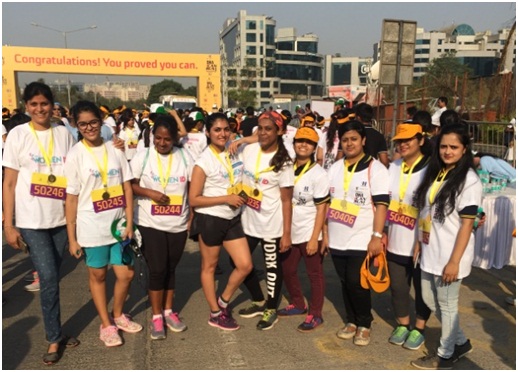 Out of breath, out of energy but with a sense of happiness of completing the marathon I smiled, waved my goodbyes to my colleagues and left the venue with a content heart and a hungry stomach.
A woman is like a tea-bag, you cant tell how strong she is until you put her in hot water.  I guess this was my hot water, and not bragging here but I think I definitely did come strong out of it!