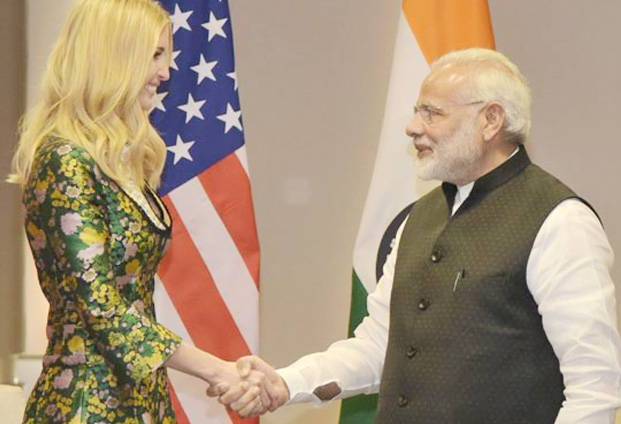 Sita-Ram, Radhey-Shyam or  Mata-Pita (Mother Precedes Father), since ancient times women in India has always been held in high great respect and the 'Women-First' approach has been an inherent, deep seated and omnipresent feature that can be witnessed across philosophy, religion, belief system and culture in India. Hence, what better than this could have been the theme for this year's Global Entrepreneurship Summit being held at Hyderabad, India.
With more than a thousand entrepreneurs mostly women and in presence of Legendary personalities including the Indian Prime Minister Narender Modi and Ivanka Trump, adviser to US President Donald Trump, the three-day summit, (November 28-30) is surely a sought after summit being convened first time ever in South Asia.
Indian Prime Minister Narender Modi praised the objective of the summit and said that the theme, 'Women First, Prosperity For All' makes this edition of GES stand out. In Indian mythology, women are an incarnation of Shakti- the Goddess of power. He also said that "We believe women empowerment is vital to our development".
Leading a delegation of senior White House officials Ms. Ivanka Trump, said it is exciting to see so many women entrepreneurs under one roof. "I am proud to see that for the first time a majority of 1500 women entrepreneurs are participating in such an event." She further added that "Only when women are empowered to thrive; will our families, our economies, and our societies reach their fullest potential."
While Ms. Trump assured continued support for women-led entrepreneurship, she also congratulated Indian PM Narender Modi for his firm belief that the progress of a community is incomplete without empowering women." Being a woman entrepreneur herself, she opines that empowering women can help both society and economy as women are more likely than men to hire other women.
Women-ID is in full concurrence with the thought provoking theme of the summit however we have always believed that both men and women are unique hence seeking equality or lead is not so important. More, because we all know women is no lesser than anyone. Let's aim farther beyond equality. Competition, Comparison and discrimination will not help; it is all about harmony and inter-dependence that is required to transform our society.
Hence, we urge all our readers to not  misinterpret Women-First with women contending for superiority ; rather the First' needs to be read as 'fundamental'-which makes it more meaningful that women empowerment is essential if we want prosperity for all. Reverence and respect for women and supporting their individual distinctiveness will not only make us all more prosper but also more prudent & powerful.