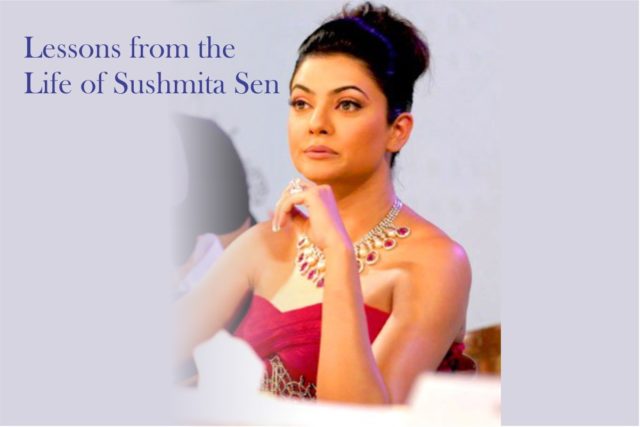 "I don't like the word "sacrifice" or "compromise". Anyone who is too into this sacrificing concept has very low self esteem because they want to be martyrs at the drop of the hat. No! Stand up for yourself!"

– Sushmita Sen

Bollywood Actress
Beauty alone is nothing: Our 'Miss Universe' is a perfect mix of beauty and intelligence. While her elegance and beauty is enough to mesmerize us, her intelligence adds up to her beauty as well, making her more attractive. It's not just the outer appearance which matters; intelligence is what makes a person smarter.
Don't let the smile fade away: There's always a smile on her face . Smile not only makes her prettier but also makes the person in front of her happy. Smile is a powerful tool. Life seems easier with a smile on your face. We must never let the smile fade away.
Be realistic: She's a beauty queen. Famous. Living her dream. But at the same time she's well aware of what is happening around her. Sushmita is a down to earth person and has a practical approach towards life which makes her a sensible person. We must learn to stay grounded at all times.
Know what you want: This is the reason we will find her decisive and collected at all times. She knows herself, knows what her capabilities are, what she needs and exactly what she wants from her life and things. Sushmita didn't hesitate a bit while adopting her daughters. She knew what she was doing- A happy single mother with a beautiful family. Life seems less chaotic and more sorted when we know what we are looking for.

Being women is a gift: Sen is proud of herself. She's proud that she's a woman. A courageous woman who isn't afraid to speak up. She promotes women empowerment and encourages other women to stand up for themselves. Being a woman is a gift. Every woman must respect and trust herself.